Original Article
Open Access
Requirements for innovation policy in emerging high-tech industries
European Journal of Futures Research
2013
1:8
Received: 7 January 2013
Accepted: 29 April 2013
Published: 13 July 2013
Abstract
Innovation policy can never be fully technology-neutral and policies often align to support incumbent technological regimes obstructing the development of new industries. In this paper, two fields are analyzed: the life sciences industry and the solar energy industry to evaluate the Finnish innovation policy's capabilities to promote emerging industries. Qualitative research methods are used for this exploratory study. The data consists of 29 semi-structured interviews and two workshops. The interviewees were chosen with snowball sampling. The data is analyzed using a scheme of functional technological innovation system analysis to identify blocking and inducement mechanisms within the industries. The performance of key processes (functions) of the life sciences and solar energy innovation systems are evaluated. Functional analysis is used to identify underlying mechanisms which induce and hinder system performances. Many similar mechanisms are found to affect both of the industries. Limited commercial experience, scarce venture capital, weak local and global networks, and poor legitimation hinder their development. High-level research and education, good infrastructure, and public R&D support are identified as promoting mechanisms. According to the results, Finnish innovation policy performs insufficiently in facilitating the growth of new industries. We suggest that in addition to the general innovation policy measures, technology-specific measures should be designed to create growth trajectories for emerging technologies. New communication and knowledge exchange channels are needed to support these trajectories.
Keywords
Innovation policyTechnological innovation systemLife sciencesSolar energyBiotechnologyPhotovoltaics
Introduction
Globalization and climate change pose great challenges for the future of the European countries. New sources of growth are needed as the global competition weakens the profitability of the existing industries. Global warming creates additional constraints for economic activities, but may also generate new opportunities as the customer preferences and technological development are increasingly guided by environmental concerns.
Forecasting and assessing the evolution of new technologies have long been focal parts of the discipline of futures studies [3, 32, 52]. According to Jim Dator's [15] First Law of the Future, the future cannot be predicted but alternative futures can be forecasted and preferred futures should be implemented. Recently, linkages have formed between futures studies and a growing research field on sustainable transitions (see Technology Forecasting and Social Change 2012, 79/6, Special Section). The literature on transitions concentrates on radical changes in the systems of production and consumption and encompasses social, economic, technological, and political dimensions. Farla et al. [24] argue that because of the long-term orientation and prospective nature of transition processes, the transitions literature is closely connected to technology forecasting and futures analysis.
The goal of innovation policy is to select a desirable future and facilitate its realization [28]. Promoting futures which encompass the desired technologies require the identification of barriers, bottlenecks, and blocking mechanisms which prevent them from gaining ground and developing [70]. Recent studies [6, 30, 44] have shown that requirements for innovation policy vary between industries. Different technologies and sectors have needs that should be addressed in the context of the particular industries. General innovation policy (e.g., tax reliefs for R&D) may provide good starting points for many fields but their growth is often hindered by factors that are specific to one or a few industries. Dynamic capabilities of recognizing and removing bottlenecks which prevent industries from reaching their full potential are needed for comprehensive innovation policy.
Life sciences/biotechnology1 and solar energy are industries which have recently attracted lots of positive attention in the Europe. Life sciences and biotechnology are considered to create significant opportunities for European societies and economies [27, 39]. Solar energy, especially the photovoltaic (PV) technology, has been identified as a desirable future technology for Europe [7, 10, 38, 68] and acknowledged also by the European Commission [17, 18, 34].
In this paper, we analyze the life sciences industry and the solar energy industry to evaluate the Finnish innovation policy's capabilities to promote emerging industries. We identify mechanisms which hinder the development of these industries to shed light on the obstacles that lie in the way of realizing their full potential. These two industries were chosen for their similarities in their identified desirability at the European level, their high-tech knowledge base, and start-up firm base. They differ in their stage of development, the life sciences industry being more mature, which gives us tentative knowledge on how the obstacles are related to the maturity of the industry.
Theoretical framework
Innovation systems consist of three components: actors, institutions, and networks which contribute to the generation, diffusion, and utilization of technology [9]. The approach thus acknowledges not only the exploration of new technological and business opportunities but also their exploitation. It covers the creation, diffusion, and use of radically new products and their continuous improvement by incremental innovation. The framework may be used to analyze both incumbent and emerging technologies [49]. Innovation systems can be delineated by national borders [48], regions [14], sectors [42], or technologies [43]. In this paper, the life sciences and solar energy fields in Finland are handled as technological innovation systems (TIS).
The actors in innovation systems may be organizations such as firms, universities, financial institutions, governmental agencies, groups of organizations, or individuals, e.g., consumers, entrepreneurs, and scientists. They interact through different forms of communication, exchange, cooperation, competition, and command [42]. Institutions encompass the "rules of the game": laws, technical standards, regulations, norms, routines, and shared expectations that guide and regulate interactions and relations between actors. Institutions can be coherent but there are often conflicts between different elements [19]. Networks define how different actors are interrelated and can be either formal or informal [6]. Bergek et al. [6] propose seven functions as tools for analyzing the performance of a TIS: knowledge development and diffusion, entrepreneurial experimentation, influence on the direction of search, market formation, legitimation, and resource mobilization.2 These all contribute to the overall goal of the system: the development, diffusion, and utilization of innovations. The implicit thought is that different processes in the TIS are complementary. To function properly, all aspects of the innovation processes must be taken care of.
Bergek et al. [6] argue that in order to prosper, emerging technological innovation systems require interplay between institutions and the actors' needs. In different stages of development, the systems need different kinds of support. Functional analysis can be used to identify the most important targets for development. According to Faber & Frenken [23], the institutions should develop in a co-evolutionary relationship. The policies should adjust to emerging technological paradigms and the paradigms to policies. Below, the six functions used for TIS analysis are introduced.
Data and methodology3
The data of the study consists of a total of 29 semi-structured face-to-face interviews. The interviewees, chosen with snowball sampling, include policy makers (11), consultants (2), researchers (4), R&D directors (3), senior executives (3), entrepreneurs (5), and a PR manager. Twenty-four of the conducted interviews concern the life sciences industry and were conducted between March 2010 and December 2010. Five interviews concern the solar energy industry and were conducted between November 2011 and December 2011. The interview questions were designed to elicit open-ended responses from participants and to encourage them to provide personal stories and perspectives to emerging industry trends, challenges, and opportunities. Questions were organized into several categories, including networking, collaboration, university–industry relationships, industry trends and dynamics, regional changes, customer interface, funding, and industrial policy.
In addition, the interviews are supplemented with data from two workshops. A 2-day foresight workshop was conducted in the spring of 2010 with 29 representative members from the Finnish life sciences community. During the workshop, participant's inputs on emerging insights, regional concerns, and promising opportunities for long-term success were gathered. In the winter of 2011, a solar energy seminar was organized by the Finnish funding agency for technology and innovation (Tekes). The seminar included a workshop with around 200 participants. The workshop's aim was to identify the inducement and blocking mechanisms of solar energy in Finland and design proposals for action for relevant actor groups. The authors attended the workshop and afterwards received a summary of the results for analysis. Qualitative data is backed by quantitative indicators of the industries in question.
In this paper, the technological innovation system framework is used to analyze the dynamics and functionality of the life sciences and solar energy innovation systems in Finland. More specifically, a functional evaluation method of a TIS presented by Bergek et al. [6] is used. The interviews were transcribed and coded. The coding was made according to the six above-mentioned functions. Every theme or topic was coded with one or more functions according to their fit. The topics which were acknowledged by multiple interviewees or whose importance was supported by complementary data are reported in the results section. Many of the topics were linked with more than one function and had causal links and feedback loops to other functions. In these cases, the topics are discussed under the function considered the most suitable for them. The functional analysis is used to identify the underlying mechanisms which induce and hinder the performance of the systems.
Results
Actors, networks, and institutions
In this section, the main constituents of the Finnish national innovation system are briefly outlined. Although technological innovation systems may cross national and sectoral borders [44], the aim of this study is to identify shortcomings in the Finnish innovation policy which puts the emphasis on the actors, networks, and institutions at the national level. There are several actors playing an important role in the Finnish national innovation system. The list and description of the actors is not comprehensive, but constructed to contain those actors that based on interviews seemed to be the most relevant. The networks are largely formed around these actors.
The Finnish Ministry of Employment and the Economy oversees Finland's technology and innovation policy and energy policy. The Finnish Ministry of Education and Culture is responsible for the country's science policy. Key issues are coordinated by the Research and Innovation Council, chaired by the Prime Minister. At regional level, the national technology policy is implemented by the Centers for Economic Development, Transport and the Environment. Tekes (Finnish funding agency for technology and innovation) is the main public funding organization for applied research, development, and innovation. Another big public financier, the Academy of Finland, concentrates more on funding academic basic research. Sitra, the Finnish Innovation Fund, is an independent public foundation under the auspices of the Finnish Parliament. Sitra's activities are financed by the yield from its endowment capital and the return on its venture capital investments.
Laws, standards, and regulations play an important role in the innovation environments of the life sciences and solar energy fields. Many of the laws and regulations are based on EU directives, but some national institutions also have a strong effect on the emergence and development of the technologies. Institutions related to university–industry relationships and taxation issues were seen highly important in the interviews.
The university–industry relationships have been crucial for the emergence of both of the industries. The legal and structural changes related to these relationships were seen highly central. Especially three changes with major impacts on the Finnish university–industry relationships were mentioned in several interviews. In a chronological order, the first change is the University Inventions Act from January 2007. The objective of the act is to promote technology transfer from universities to industry. The second change is the establishment of the Strategic Centers for Science, Technology and Innovation (CSTI, Finnish acronym SHOK). They are new public–private partnerships and their main goal is to promote collaboration between universities, research institutes, and industry and to facilitate radical innovations. The CSTI of Finnish energy and environment sector (Cleen Ltd) was established in 2008 and the CSTI of Health and Well-being (Salwe Ltd) operating in life sciences sector started on April 2009. Third change is the new Universities Act which came into force on the first of January 2010. The objective of the renewal was to give universities a more autonomous position in terms of financing and overall management, and to offer universities better premises to fulfill their three central assignments: research, education, and societal interaction (Fig.
1
).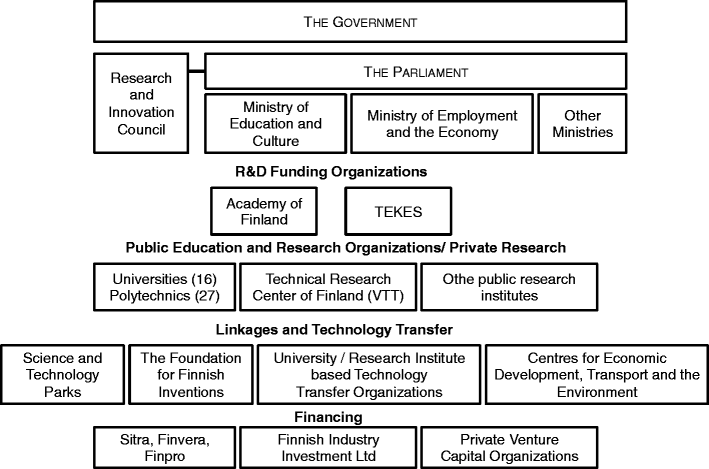 In addition to the university–industry relationships, taxation issues were considered critical in fostering innovation. Taxation has an important role in creating growth-friendly environment where venture capitalists, business angels, and companies feel comfortable in investing. In 2005, 70 % of OECD member countries, excluding Finland, had tax incentives for R&D investments [16]. In year 2012, the Finnish government has decided to test R&D tax incentives for a 3-year period [67]. The public R&D money for Finnish companies as well as the tax incentives are below the average of OECD countries [49].
Discussion
Many of the results concern difficulties in creating growth trajectories for emerging knowledge-intensive industries. In Finland, the knowledge creation processes are in good shape but the knowledge is poorly exploited. Start-ups get founded but high-growth entrepreneurship is very rare. According to this study, the most immediate causes are limited resources and poor international commercialization skills. These problems arise from the facts that there are no shared goals concerning the future of the industries. Academia, industry, and policy makers should together define clear targets for future developments and act accordingly. At the moment, lots of potential and effort is wasted because the actors in the innovation systems are not aligned to support each other. The Finnish economy has previously led by ICT, forestry, metal and machinery industries, and large enterprises. The growth has not been dependent on promoting the growth of SMEs which may have guided the policy makers away from developing institutional settings that support high-growth entrepreneurship.
Low amount of venture capital and remote location are known difficulties for Finnish firms. Different technological innovation systems however face their own special characteristics. We argue that in order to support the growth of emerging industries the policy makers have to increase communication with relevant actors, analyze the strengths and weaknesses in the TISs and react with technology-specific policy measures aiming to remove bottlenecks that prevent the industries from reaching their full potential. Our suggestions for relevant policy measures for the life sciences and solar energy industries include means and incentives for tighter local and global networking, influencing public opinion, eliminating prejudices, raising awareness, and designing needed regulation and demand-based innovation policies to boost domestic market creation.
Technological path-creation by policy makers has a risk of 'picking the wrong winners', i.e., investing in technologies that will not yield commercial or societal benefits. This is not a trivial concern and answering it demands strong forecasting skills. Methods of evaluating emerging technological systems need to be further developed. The functional evaluation model used in this study provides a useful way to divide complex systems into manageable components. However, the functions are not very explicitly defined. Many topics that arise from the data could not be exclusively associated with only one function. For example, the functions influence on the direction of search and legitimation have similarities and overlap with each other. Different functions are interdependent and may affect each other by causal relations and feedback loops. Bergek et al. [6] included a seventh function, development of positive external economies, in their original model to capture the interdependencies. We considered it significantly different from the other functions and decided to omit it from the paper and discuss the synergy effects (or their absence) with their appropriate functions. Further development of the theory should focus on designing clear indicators and assessment methods for the functions to enable comparability between different technological innovation systems.
Our data covers qualitative interviews from two emerging high-tech innovation systems. Although the results have been complemented with some quantitative data they should be considered exploratory and preliminary. The life sciences and solar energy fields share some common elements but they differ in their stages of development the life sciences field being much more evolved. While it is interesting to notice that these two fields face problems that are very much alike, more research on industries at different development stages could reveal information on which mechanisms play the most important role in which stages. Further research on other emerging fields would back or contradict our findings and determine their generalizability.
Conclusions
Finland has been praised for its innovation policy, which has led to success especially in ICT, forestry, and machinery industries. The traditional industries are currently however losing ground and new sources of growth are needed. Innovation policies, technological development, and social practices tend to evolve to support certain industries and provide beneficial synergy benefits and economies of scale and scope. At the same time, they may create barriers for emerging technologies.
This study analyzes the life sciences industry and the solar energy (PV technology) industry in Finland to evaluate the Finnish innovation policy's capabilities to promote emerging industries. Using a functional analysis scheme of technological innovation systems, several shared bottlenecks are identified. Both of the industries do quite well in knowledge creation. Low level of domestic collaboration, remote location, poor public image, small firm size, unmet technology-specific policy needs, and lack of business know-how are mechanisms that prevent the industries from exploiting the created knowledge commercially by reducing available funding and making international commercialization difficult.
Many of the bottlenecks of the technological systems are technology-specific. Based on this, we argue that each industry and their needs should be evaluated individually. Accomplishing long-term competitiveness and continuous development of desirable technological systems is however not a matter of one-time political reform. Arrangements are needed where policy makers are informed of the latest developments and able to adjust their actions accordingly. Supporting the development of emerging industries requires dynamic capabilities from the policy makers. Communication and knowledge exchange between policy makers, firms (especially SMEs who are numerous) and academia needs to be improved in order to design sustainable innovation policy.
Footnotes
1
Life sciences has no universally accepted definition, and the term is often used together with biotechnology or even interchangeably. We define life sciences as functional foods, drug development, diagnostics, biomaterials, bioinformatics, and medical design and technology.
2
Bergek et al. [6] include also the development of positive external economies as a seventh function which deals with synergy benefits such as pooled labor markets, availability of specialized goods and knowledge spillovers, which arise as the TIS grows. We have omitted this function from our analysis on the grounds of simplicity as we believe the externalities may be discussed in the context of the other functions. VINNOVA (the Swedish Agency for Innovation Systems) has also decided similarly.
3
The technology field referred to as solar energy should be understood as comprising different photovoltaic (PV, solar panel) technologies in the context of this paper. The life sciences field encompasses functional foods, drug development, diagnostics, biomaterials, bioinformatics, medical design, and medical technology. Most available data is about the related and overlapping biotechnology field and may not accurately represent the life sciences field.
Declarations
This article is published under license to BioMed Central Ltd. Open Access This article is distributed under the terms of the Creative Commons Attribution License which permits any use, distribution, and reproduction in any medium, provided the original author(s) and the source are credited.
Authors' Affiliations
(1)
Department of Industrial Engineering and Management, Innovation Management Institute, Aalto University, Aalto, Finland