Original Article

Open Access
Ugly as a concept in craft to examine alternative futures
European Journal of Futures Research
2017
5:18
Received: 17 October 2017
Accepted: 6 December 2017
Published: 16 December 2017
Abstract
Futures studies argue that the future cannot be predicted, but rather alternative futures can be explored and preferred futures can be imagined. Furthermore, our images of the futures can be a resource that informs our decision making. Understanding and imagining futures needs transdisciplinary inquiry; it calls for creativeness and freedom from prejudice. In this study, we present a design experiment accomplished in the textile teacher education at the University of Helsinki. Our aim was to explore and strengthen the skills that students will need in their future work. Expression, design and technology are characterized by open-ended and complex design problems. When solving them, a student internalizes that there are no right or wrong solutions to problems, that the path of the design process cannot be precisely defined in advance, and that the same starting point can produce different solutions. This experiment familiarized students with the interrelation between materials and the techniques for their manipulation, and guides the students to understanding the opportunities provided by manual experimentation, spontaneous invention and discovery. Carrying out these experiments entails the free, unusual or absurd manipulation of the materials. Ugly was especially selected as the viewpoint to discuss possible new futures. Data were collected from students' portfolios and analysed using qualitative content analysis. The study shows that making something intentionally ugly raises emotional debate. Ugly was understood and defined in numerous ways. Ugly experiments impacted on motivation to invent and discover by empowering or encouraging, for example. A matrix was formed to summarize the findings of the study.
Keywords
CraftDesignAnticipationExperiental foresightAlternative futuresEmpower
Introduction
In this study, we present a design experiment accomplished in textile teacher education at the University of Helsinki. The experiment showed students the connections between materials and techniques and how to manipulate them to understand the opportunities for experimentation, inventions and discoveries. The objective was to show how working with materials using different techniques both requires but also enhances free and unconventional mindset.
The purposes of futures studies are to discover, invent, examine and evaluate. The exploration for possible futures includes trying to look at the present trends in new and different ways, deliberately avoiding conventional and traditional thinking and taking unusual and unpopular perspectives. Critical perspective to the futures focuses on a purposeful transformation and development of an existing situation. It is used to find ways to break away from the preconceptions and the built-in, unconscious beliefs and to find new perspectives and to open new opportunities to the future. Experiental foresight involves thinking of present problems as opportunities and present obstacles and limitations as transcendable. [1]
Futures studies aim to explore alternative futures, which may be possible, probable and preferable. Futurists agree that images of the future constitute a significant factor that guides human behavior and through behavior such images contribute to the creation of the shape of the coming future. Purposeful action requires the anticipation of future occurrences. [1]
Futures studies propose the active role of a person for exploring and imagining the future [2]. And from this point of view craft provides an interesting field of approach. Craft offers opportunities to experiment with new ways of thinking that break the boundaries. Craft makers and designers ought to have a key role through which they can innovatively renew their practices and also actively influence the public and the future in society. Future-oriented craft education increases understanding of the effects of design on people and the environment and encourages rebuilding the living environment and its products and services. [3] This agrees well with the most general and important purpose of futures studies which is to maintain and foster the freedom and well-being of humankind and all living beings. [1]
Education is preparation for the future. It is guided by the partly unknown skills and abilities that will be needed in the future. According to Hicks, teachers generally deal with the present and explicit exploration of the future is missing from the curriculum. In times of transition and rapid change, the past cannot provide an accurate guide to the future. Students need to develop skills in anticipation and adaptability, foresight and flexibility, innovation and intuition in order to become more adaptable and proactive towards change [4].
Also important are students' real-life experiences that shape their capacity to acquire knowledge from past experiences to shape future experiences [5]. The purpose of design education is to guide the student to a critical approach and to increase the proportion of knowledgeable designers, craft teachers and consumers who understand their environment and culture [3]. Design education encourages experimentation, initiative, perspective change, and sharing one's own ideas. In addition, the idea is to make design thinking and the design process as a tool for phenomenon-based learning.
It is impossible to answer the future challenges of craft and design by developing only the old ways of working. It seems that working in the conventional way is a strong habit, with a subject-based focus in lessons, for example. On the other hand, students tend to continue the ways of teaching and guiding they learned when they begin their working life as teachers. Thus, teacher education has vast opportunities when offering tools to students for creating new knowledge, raising enthusiasm and introducing innovative ideas. Co-teaching and -learning practices are best implemented when they are self-discovered and learned in an early stage of studies. [6]
It is evident that there is a need for new ways of thinking in order to forecast futures. For example, Candy argues that futures should be brought out of the realm of cognitive abstraction into experience; into the body [7]. Furthermore, Candy and Dunagan, among others, introduced new perspectives through a case study of experiential futures. As a result of a workshop, they presented the Experiential Futures Ladder, which is a conceptual model for scaffolding experiential scenarios and design fiction. [8] Anticipation benefits from more fully acknowledging imaginative, creative, and constructionist aspects of design [9].
Within art and design education, experimentation with materials is an integral part of the learning process. However, the attention to materiality in educational studies has been rather limited. Related studies [10–12] show that rather than using sketching, novice designers explore their mental images using three-dimensional materials. For example, Malcolm Welch et al. discovered that designing simple three-dimensional forms may start from sketching, but modelling is often used when developing the idea further [10]. Furthermore, they considered materiality important when generating and communicating ideas as it provides an informal and supportive way to develop the ideas further. [13]
Ugly, crafting and discovery
Currently, ugly seems to be a topical theme that can be seen in the contemporary craft and neo-artisanal maker movement. For example, new emerging aesthetics of production may appear in unconventional shapes and forms, unorthodox material combinations, intentionally imperfect products and visual chaos. Time, preferences, tastes, and the harmony alternate and override each other [14]. Ugliness is a recurring phenomenon of zeitgeist that can be found and re-found not only within the domain of fashion but also in art, architecture, design and theatre, to think only of creative pursuits. [15]
To meet challenges and changes in the future, ugly was a concept given to students as a perspective to be examined and interpreted during their working. By making ugly experiments our aim was to explore and strengthen the skills that students will need in their future work, i.e. enhancing flexibility, tolerating imperfectness and seeing diversity. We chose ugly contrary to the traditional beautiful and faultless heading craft [16]. From our experiences as craft teachers we knew that students usually wanted to work in a way, which promoted beautiful outcome. Hence, ugly experiments offered them an unconventional approach to experimenting and doing, also approaching which possibly required less control. The objective in this experiment was to discover new ways of doing and seeing, not controlling or mimicking.
The students were given an open-ended design assignment and five sub-tasks for ideation that encouraged reflective insights about individual and shared practices. Students executed the sub-tasks three-dimensionally by using altered techniques and materials; drawing was not allowed. Students were asked to do ugly exercises and then analyze why and how they were ugly. Like Rhodes describes, handmade can be understood to not only mean skilled, special and unique but edgy, underground and cool [15]. The students expressed their views spontaneously during their working process and later they wrote more detailed analysis into their portfolio. With ugly assignments, we tried to find out the meanings given to ugly, its options for exploring what students knew or did not know, or what they should learn.
The ugly experiment gave students an opportunity to become familiar with learning by discovering. In discovery learning, the learner feels something new as personally meaningful and interesting. Open-ended creative tasks are not yet everyday practice in the education of crafts. [17] When students have opportunities to get the experience from open design tasks, they can gradually develop the ability to deal with uncertainty and produce creative solutions.
In the feedback discussion at the end of the course, we discussed whether teachers educate students to do things 'right' and perhaps even to think that there is just 'one right way' instead of many alternative 'right' ways. We as teachers had a good reason to start thinking about what students could learn by doing things in wrong and ugly ways. Would the doing wrong and ugly help students to get rid of old, familiar routines in craft learning? Would doing things wrong enhance students' learning compared to doing things right? As futurists have argued, people are often bound to their conventional way of doing and fail to see the possibilities for change within themselves. This is because most of them have not been taught to look at the world unforeseeably and search beyond the cultural conventions and manners of their own groups for possibilities for their personal futures or for society's future. [1]
Research aims, materials and methods
In this study the research questions were:
1)

2)

How has ugly been refined during the process?

3)

What meanings and interpretations applied to ugly?
Data were collected during 2015–16 and 2016–17 academic years and they consisted of students' portfolios (N = 60). First year students were exposed to the concept of ugly in a course called Material and Surface (10 credit units), which contained five minor classes: Experiential Textile Design, Dyeing, Textile Printing, Embroidery and Weaving.
Textile teacher education at the University of Helsinki educates students to teach in the compulsory years of school as well as in the adult education sector. Moreover, graduates can work as specialists in a variety of duties in the field of textiles. The degree of Master in Education comprises 300 credit units, of which half is in craft studies in which students are introduced to different craft techniques, and they acquire the skills to apply the techniques later in their own work and teaching.
The research material was analyzed using databased qualitative content analysis. In the first round of the content analysis, the data were examined according to the research questions. The first research question 'How does ugly appear' dealt with the concrete personal experience and the reflective observation encountered through senses. For the first question, five categories were found: senses, colors, materials, purpose, ideas and results.
The second research question 'How has ugly been refined during the process' focused on experiential-verbal reflection, reflective observation, and sharing of experience with others. For the second research question, four categories were found: sharing, transformation, viewing and intuition.
The third research question 'What meanings and interpretations applied to ugly' discussed the meanings students brought about their world of living. At this stage, the metaphors dealing with past, present and future were important, i.e. visual, verbal and haptic conceptualization of work together. For the third research question categories, quality, speed of decision, empowerment and taboos arose.
In the second round of the content analysis Amara's postulates and the research questions were combined to create a nine-element matrix (Table
1
). Amara defines approaches of the future in three ways: future cannot be predicted, alternative futures can be explored and preferred futures can be imagined. [
2
] Amara's concept of futures was used to categorise the empirical findings. With postulates, we tried to identify the process of creating ugly, to understand the creative potential of the alternatives produced and to crystallize the interpretations of ugly. The first postulate 'future cannot be predicted' signified experiments that described the materials and methods as they appeared. The second postulate 'alternative futures can be explored' called for experiments in which students deliberately developed their work further and experimented with materials and methods. The third postulate 'preferred futures can be imagined' showed experiments, which met the obstacles of reality and the final outcome and meaning could only be seen when imagined. In
Summary of the results
, the matrix built on the theme ugly is presented and explained by selected students' experiments.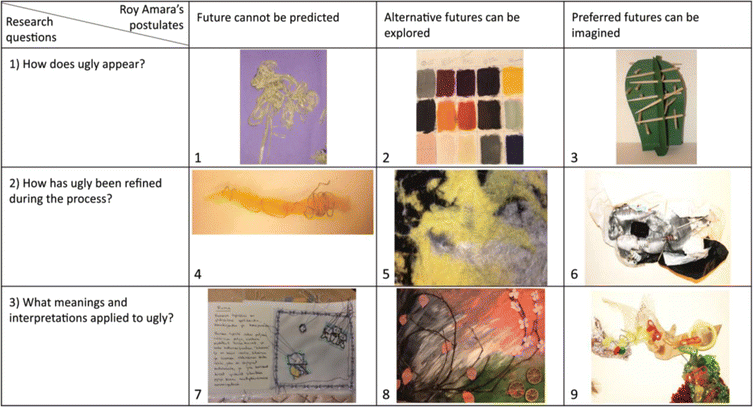 Conclusions
The purpose of our research was to increase students' perceptions about the existence, changes and opportunities of ugly. Our analysis focused on experiments and reflections made by craft students over a period of two years. Students understood and defined ugly in numerous ways. Ugly experiments impacted on motivation to invent and discover, for example by empowering or encouraging.
Working with something that is unpleasant can finally teach more because one must become acquainted with the unfamiliar. Learning is much more than what we understand.
In conducting experiments, students need a mixture of instinct, intelligence and discipline.
I just had to do and do. In the end, all just succeeded and I was happy with the beautifully ugly experiment.
Mistakes are important in learning. Through the exercises students learn that they do not need to second-guess in decision-making. From the intuition development perspective, failures and mistakes are important. Without making mistakes, it is hard to develop intuition to its full potential. Only if a person experiences biases can they be assimilated and can learning begin. In optimal cases, intuitions and insights lead to new knowledge, new practices and breakthrough innovations. [
21
]
I learned about the freedom to make mistakes, and something unexpected could come out of mistakes. The pressure for perfection disappeared.
The future cannot be chosen but our beliefs about what is possible influence all our future-oriented actions [1]. With ugly assignments, we try to find out the meanings given to ugly, the opportunity to explore what students know or do not know, or what they should learn about. When we know the obstacles to thinking, we can get rid of them. Students have realized that they have more creative ideas than they have been expecting from themselves.
From the perspective of learning, ugly experiments taught students to practice free imagination. Students observed both their learning processes and their attitudes. In addition, the aim was to become sensitive enough to the use of all senses and to discover the opportunities that arise from using different senses in learning and design. However, it was fairly rare for students to focus on smell and taste in the exercises. If used, they mainly used them in taboo themes. So, further experiments could be expanded to include senses of smell and taste.
The ugly theme could also be used to learn to critique each other's works creatively without using value words such as beautiful or ugly or to present opinions of success or failure.
When an idea is new, one may not recognize its potential. When an idea is old, somehow familiar, one cannot see anything new in it. Ugly has been one way to see something with new eyes. What is considered ugly today will be beautiful tomorrow. The future opens up the horizon of the present, and it is the source of our strength for becoming [26]. Ugly result may promote the good.
Declarations
Publisher's note
Springer Nature remains neutral with regard to jurisdictional claims in published maps and institutional affiliations.
Open Access This article is distributed under the terms of the Creative Commons Attribution 4.0 International License (http://creativecommons.org/licenses/by/4.0/), which permits unrestricted use, distribution, and reproduction in any medium, provided you give appropriate credit to the original author(s) and the source, provide a link to the Creative Commons license, and indicate if changes were made.
Authors' Affiliations
(1)
Fashion and Clothing, University of Lapland, Rovaniemi, Finland
(2)
Craft Studies, University of Helsinki, Helsinki, Finland